We had an incredible evening on October 23rd. It was a privilege to listen to Freetown's Mayor Yvonne Aki-Sawyerr. Her vision to Transform Freetown follows such a clear and well thought out plan, it is easy to see why it is inspiring so many Freetonians to take action. We heard how the Transform Freetown initiative is linked to the UN's 17 Sustainable Development Goals. This also reflects the work done in our schools as they have worked on projects with their partners in Freetown that have been developed around the backbone of the UN's SDGs.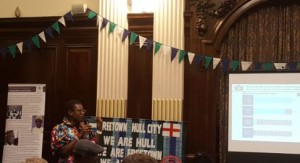 The Mayor attended directly from a conference for the mayor's of the Commonwealth. To see her passion and enthusiasm for the links between Hull and Freetown is a very positive sign as we move forward with our relationship. The positivity continued after her speech with informal discussions accompanied by the wonderful Sierra Leonian food provided by one of our Executive Members. Following the food, the room listened to two members of Hull City Council as they presented their findings from their trip to Freetown. From city planning and the flood risk agency, their visit had looked at how we as a city can further assist communities in Freetown as they look to protect themselves from future floods.
Using the hashtag #TransformFreetown, we will be supporting Mayor Yvonne as she continues to develop Freetown and its appeal to the wider world.