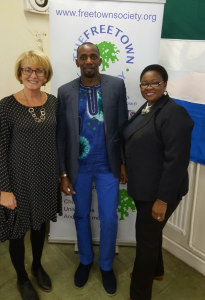 Last week's Freetown Society Open Evening was a huge success! We were welcomed by the Afro Caribbean Association who provided a very suitable venue in which those in attendance were entertained, fed and informed. The Sierra Leonean food proved to be a huge hit as the home made cassava leaves were washed down by shots of ginger beer.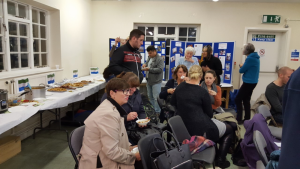 Our chairwoman, Kathleen Guthrie, provided the audience with an update on the on going activities between Hull and Freetown such as the fantastic work being done by The Avenues Bicycle Project as they acquire bikes to send over to Freetown. The City of Culture work on a school based Twinned Exhibition showcasing the partnership between the two cities sounds very exciting indeed. Also on the school theme, it was announced that 8 Hull schools have completed the necessary courses to travel over to Freetown in the New Year. This will be a fantastic opportunity for some real hands on idea sharing and project building. Helen Ashby, member of the Friends of Sierra Leone Railway Museum, has a head start as she left for Freetown the morning after the Open Evening!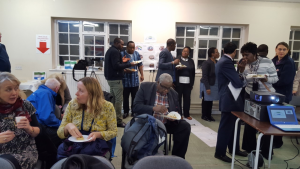 Our guest speaker was Salome Hydes. She is a registered nurse in the UK and is the founder of Friends of Diabetes UK & Sierra Leone and Diabetes Community Champion for Southwark Council. She has extensive knowledge and experience of promoting diabetes awareness, early detection and diabetes management in Freetown. Salome spoke passionately on the topic of non contagious diseases and how they need to be taken as seriously as Ebola and over epidemics that have recently taken the unwanted spotlight. Salome travelled to Freetown to pass this message on and organised events marking World Diabetes Day in an effort to raise awareness of the symptoms and cures for this debilitating disease. Live updates were being given to some of the head teachers at our partner schools in Freetown who are keen to make their teachers, students and families aware of symptoms and causes of diabetes such as tiredness and poor diet. Together, we hope to continue to raise awareness for diabetes in Freetown and we thank Salome for her time and her passionate words.
A special thanks also goes out to Cecil Jones and the Freetown Mix who provided a lively soundtrack to the event which culminated in full audience participation on the dance floor! It really was a great way to finish a very successful Freetown Society Open Evening.